Services for Intended Parents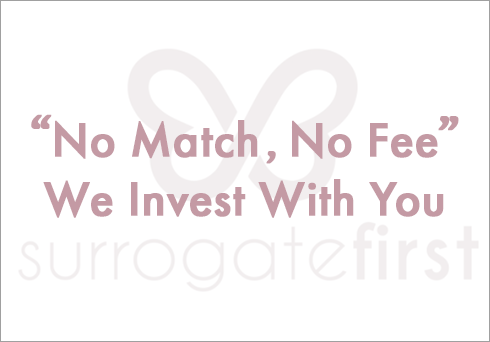 SurrogateFirst's team is 100% composed of Intended Parents & Experienced Surrogates. We have first-hand knowledge of what is required to have a successful surrogate journey. SurrogateFirst's "No Match, No Fee" Guarantee Program ensures you will be matched before paying any fees. Our program minimizes your risk as we invest in your surrogate journey together with you.  We are experts in guiding Intended Parents and we are with you every step of the way.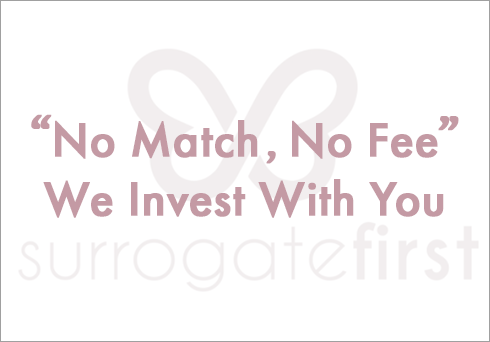 SurrogateFirst Core Values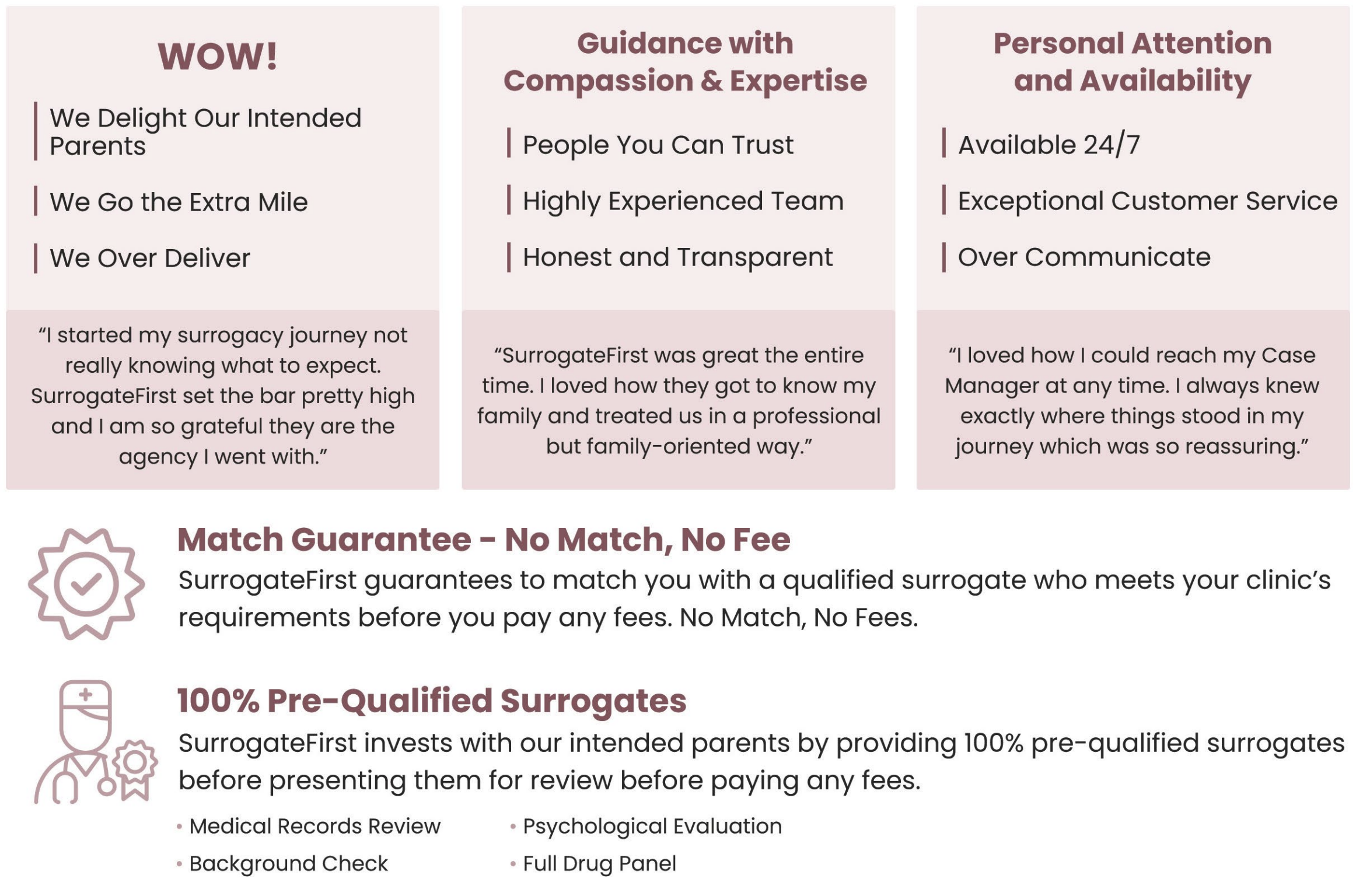 Below is a list of services we provide:
Medical records screening with OBGYN clearance letter

Mental health screening 

Background checks 

Intake Interview with  each surrogate
We have 15-20 prequalified available surrogates ready for review at any given time. 

We thoroughly review your Intake Form and requirements to only present the best and most qualified profiles for your review.
All of our match meetings are highly coordinated and well planned beforehand to ensure success.

All basic terms and conditions are agreed upon before our match meetings to manage both parties' expectations ahead of time.

Match meetings usually take place online via Zoom with the Surrogate, Intended Parent and your SurrogateFirst Case Manager.
All of our Case Managers are experienced surrogates and equipped to manage all situations. 

SurrogateFirst prides itself in its accessibility and availability to serve our Intended Parents - no question or concern is too minor to ask and reach out.

Intended Parents' main point of contact is your Case Manager; however, you will have access to reach other team members in case of an emergency or for updates anytime.
We provide you with a comprehensive cost sheet prior to signing the contract.

We provide full disclosure throughout your journey so you are aware of every expense.
Involves coordination with IVF clinic, OBGYN, and pharmacy as needed

We serve as the one point of contact for all parties involved.
We coordinate your surrogate's travel to and from your IVF Clinic.

Surrogates will travel to your clinic for medical screening and the embryo transfer
We review your surrogate's insurance to see if it can be used for surrogacy.

We help you find the most cost-effective insurance plan if your surrogate does not have surrogate-friendly insurance.
We determine a life insurance policy that is the best fit for your surrogate. 

We ensure that the life insurance policy covers both the surrogate and the Intended Parents
We provide you with referrals to attorneys across the country who specialize in fertility. 

We assist you in selecting an attorney who you feel is a good fit.
We assist you in finding a reputable escrow company.

We serve as the liaison between you and the escrow company so you don't have to worry about payment disbursements.
We assist you in preparing your Pre-Birth or Post-Birth Order legal documents.

At birth, we ensure you will have all the parental documentation.
Surrogate's get customized fitness & nutrition plans from our expert health professionals.

Surrogate's get personal coaching to ensure they are following their plans.
Case Manager's check in with your surrogates on a weekly basis, if not more, to ensure all of her needs are being met.

Case Manager's ensure surrogates are taking their prescribed injections/medications
The seven steps below outline SurrogateFirst's streamlined approach to finding and matching our Intended Parent(s) with a passionate, fully-vetted surrogate who is the perfect fit for you as you begin your journey to parenthood. Our team of experts walk hand-in-hand with you to guide you throughout your journey and to facilitate every detail with your fertility center, attorneys, insurance brokers, as well as the day-to-day with you and your surrogate.
Your journey begins with a complimentary consultation with one of our Surrogate Coordinators.  She will learn more about you, your story, and your wishes/desires for your surrogate journey.
At SurrogateFirst, we know that everyone has their own unique story and we pride ourselves on taking whatever time is required to get to know you and understand what matters most to you.
Once you have chosen to partner with SurrogateFirst, we don't waste anytime. We assign you a dedicated Case Manager who will discuss what you are looking for in a surrogate. We then take the criteria you have shared is most important to you (i.e. communication style, marital status, etc) and find a surrogate from our fully-vetted, pre-screened, passionate surrogates who is a great fit for you.
We share the surrogate's profile with you and answer any questions you may have. If you express interest in exploring a match with the surrogate presented to you, we send your profile information for the surrogate to review. If she also expresses interest in exploring a match, we facilitate a video call for you and the surrogate to get to know each other better.
If you and the surrogate both decide to move forward, the match is official, celebration time!! Your Case Manager will begin lining up your surrogate's medical screening at your clinic.
Your surrogate begins a medical work up at your fertility clinic to gain clearance to begin the journey.
SurrogateFirst connects you with our top-rated legal experts who begin working with you to draft your contract, which outlines the agreement between you and your surrogate.

A Gestational Surrogate Agreement is a contract between Intended Parent(s), the surrogate and her partner/spouse, if applicable. These agreements detail the parties' rights, obligations, intentions and expectations in connection with the surrogacy arrangement. Because surrogacy laws differ by state, it also addresses the legal requirements of the state where your surrogate resides. The contract also outlines future contact between the parties, insurance (both health and life), payment of medical bills, liability for medical complications, and the Intended Parents' presence during doctor's visits and at delivery. Financial considerations such as the surrogate's compensation and expenses, including lost wages, legal fees, childcare and maternity clothes are also addressed.
SurrogateFirst partners with experts who specialize in fertility insurance. Your Case Manager will complete an initial insurance benefits inquiry to see if your surrogate's insurance is likely to cover surrogacy. If she doesn't have a plan in place, your insurance expert will recommend different insurance options for you based on your specific case. Fertility insurance is part of the overall cost of surrogacy.
Your surrogate prepares for the embryo transfer and begins medications on the first cycle day of her period, anywhere from 1–5 weeks after legal clearance and she is closely monitored during this time. The embryo transfer takes within one day at your fertility clinic.
Once your surrogate becomes pregnant, your dedicated Case Manager at SurrogateFirst is with you every step of the way until delivery. We work with you, your surrogate and the hospital to ensure a smooth and secure birth.
SurrogateFirst Partners with only The Best - How we select our Surrogates
SurrogateFirst's stringent screening process ensures that our surrogates meet strict requirements to ensure a successful pregnancy. When a surrogate applies with SurrogateFirst, she will fill out an informational questionnaire to determine whether she meets the requirements listed below. In addition to ensuring she meets these requirements, our surrogates will further undergo an extensive 5-Step Screening Process. SurrogateFirst's extensive vetting process ensures that we partner with only the best; therefore, reducing the amount of time your surrogacy process takes.
Each surrogate that works with SurrogateFirst must:
Be 21-40 years old
Have a BMI of 18-32
Be a non smoker and nobody in the household smokes
Have had at least one successful pregnancy
No more than two c-sections
Have waited six months after her last vaginal birth and 12 months after her last C-section birth
Be currently raising a child
Had no major complications in previous pregnancies
Have completed a pap smear in the last year
Not receiving state assistance
Be able to travel as needed for surrogacy appointments
Have no felony convictions
Have no tattoos or piercings within the last 12 months
Not be on antidepressants or anti-anxiety medication within the last 12 months
Once it is determined that a surrogate meets these requirements, she will undergo SurrogateFirst's 5-Step Screening process to further ensure she is prepared for a successful surrogate journey.
Five-Step Screening Process
We get to know our surrogates; we ask detailed questions to learn their personalities, family circumstances and why they are choosing surrogacy.
We make sure our surrogates have their OB's approval to complete a successful surrogate journey.
We check all members of her household over age 18.
We make sure our surrogates our financially stable and not receiving any government assistance.
SurrogateFirst completes an initial insurance benefits inquiry to see if your surrogate's insurance is likely to cover surrogacy. If it is not likely to cover insurance, your Case Manager will work with our expert insurance brokers to get you the best quote available that is unique to your situation.