SurrogateFirst's Wellness Program, created specifically with surrogates in mind, encompasses every stage of your journey from pre-conception, each trimester, and three months postpartum ("4th" trimester).  We provide a holistic approach consisting of nutrition, fitness and relaxation guidance from passionate professionals at STRENGTH & GRACE.
What can you expect?
1-on-1 Personal Consultations                   Expert Advisors

Weekly check-ins                              Certified Nutritionists

Nutrition & Exercise Plans                      Personal Trainers
Our goal starting Day ONE is for a healthy pregnancy, resulting in a healthy baby and the quickest recovery possible for our surrogates. Our commitment to our surrogates is unparalleled.  Apply, learn more, and meet your wellness coaches/personal trainers below.
Corry Matthews has been: "Inspiring and motivating individuals to achieve their dreams through building healthier bodies" since 1998. Inspired by the transformations in her own clients throughout the years, Corry founded Corry Matthews Enterprises (CME) to help people and organizations reach their best wellness potential, through health and wellness consulting, development and coaching.
Corry's experience includes corporate health and wellness speaking; health and fitness coaching/mentoring; corporate wellness program design, government/military fitness programming, personal training, group fitness instruction and nutrition. Corry is a professional figure/fitness athlete (International Federation of Bodybuilding) and fitness model. Corry represented Gold's Gym International as their Pre/Postnatal Fitness Institute Expert from 2003-2010. Corry is also a board member for the Prince William Chamber of Commerce. Her work has been featured in numerous print and broadcast media outlets including: Potomac News, NBC News Channel 4, Body Fitness Magazine (UK), Flex, Max Sport and Fitness, and Oxygen.
Corry obtained her Master's Degree in Sports Medicine from the United States Sports Academy and received her Bachelor's Degree in Kinesiology from the University of Colorado. Corry has also obtained a wide variety of health and fitness certifications.
American Council on Exercise (ACE) Advanced Fitness Specialist, Personal Trainer and Group Exercise Instructor
American Fitness Professionals and Associates (AFPA) Certified Pre/Postnatal Exercise Consultant
Certified Sports Nutritionist
Certified Fitness Nutritionist
Certified Kids Nutritionist
Sport Yoga (National Exercise and Sports Trainers Association)
Yoga Fit®
SilverSneakers®
BodyStep® (Les Mills)
Certifed Wellness Coach
Corry lives in Alexandria, Virginia with her husband, daughter and two dogs.
In addition to Corry Matthews Enterprises, Corry is also the founder of Strength & Grace Fitness™, Strength and Grace Fitness for Two™ and the Co-Owner of several Max Muscle Sports Nutrition franchises. She is also the Co-Founder of Fit & Healthy Schools™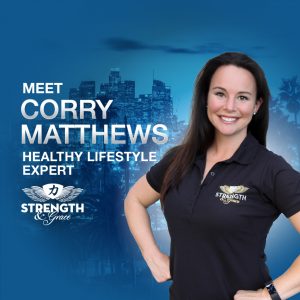 I hold a PhD in holistic health and am a Master Certified Clinical Hypnotherapist (among other things). I'm also a wife (to a talented husband), mother to one beautiful young man and three cats, martial artist, writer and sculptor. I've taken up strength training, running (which I still protest but do because of the results) and a massive effort to be vegetarian to be more healthy and promote healthy ideals to those I coach. I love the beach and paranormal romance novels and yes, if you find me AT the beach I have my nose buried IN a romance novel. You can find my alter ego here, where she creates worlds and stories and characters and gives them as much grief as possible.
I am a co-author of 9 Months In/9 Months Out – a holistic approach to pregnancy with the awesome experts over at ACSS Transitions. I'm a Certified Stress Management Coach as well. And, I wrote Muse – Breathe. Focus. Achieve. to help writer's overcome writer's block.
I hold a 1st degree black belt and have been focusing on my training for 2nd degree with 6th degree Coach Tom Callos and Everything Self Defense and the 100 Network. We're taking it out of the dojo and into the community.
While helping new clients, I've taken it 'out of the dojo' (which I mean out of the office as well) and am currently developing a Martial Arts/Fitness program for the House, a Leadership program for at risk youth in my home town and preparing to expand it into the schools of Prince William County. I (along with my husband and business partner, Nick Kelly) am also a Court Appointed Special Advocate for Abused and Neglected Children (CASA) in Prince William County. We are actively working on building KittenKlaws, a non profit dedicated to providing health and safety training to at risk youth.
I founded Mind-Body-Spirit Works, just outside of Washington DC, and focus my time on holistic health coaching and writing (books, blogs, guest blogs, articles…you name it). We help people decrease their pain and stress by showing them alternative methods to counter modern day illnesses and dis-ease.
I learned a long time ago that I can achieve anything I put my mind to. I love teaching others how to do the same.
You can contact me here at staciakelly@gmail.com. Email is usually the best as I don't like answering the phone. And, if you know my phone number, texting works too
Now for the educational/certification stuff….because you just KNOW you're dying to know about it…
A BA from Virginia Tech
A MA from George Mason University
A Doctor of Holistic Health (PhD) & Master Certified Clinical Hypnotherapist (MHt)
A Member of the American Holistic Health Association
A Certified Hypnotherapist & Registered Hypnotherapist with the American Board of Hypnotherapy
A Certified Personal Trainer with Exercise Science Alliance and IDEA
A NESTA Certified Holistic Stress Management Specialist and NESTA Certified Sports Hypnotist
YogaFit for Kids® Instructor, YogaFit Levels I & II
Certified, Holistic Life Coach
An author and lecturer
DC Martial Arts Examiner for Examiner.com
Founder, Studio13 by MBS Works
1st Degree Black Belt
As an aside, (if you're STILL READING) I love languages, art, and other cultures. So, you can probably find me studying Swedish or Chinese lately, just because languages interest me.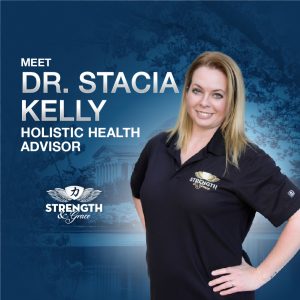 YOUR WELLNESS PROGRAM INCLUDES:
This private initial consultation will assist to determine fitness level, and nutritional baseline for beginning the program and ultimately to create your personalized Meal and Workout Plans. You will also get to know your professional trainers personally and have a support network behind you. 
At every transition point of your pregnancy journey, you will receive a Meal Plan and Workout Plan that is tailor made and customized for you. We continue these plans into the "4th" trimester to ensure you have a full and healthy recovery - we got your back!  
Join a Circle of surrogates who are all in the same trimester; a place where you can ask questions, receive immediate feedback and have regular accountability check-in's. Each Circle is moderated by our Coaches so you will always have the support you need to succeed.
Our Coaches will host live learning and Q&A sessions on a set monthly schedule that is specific to your stage of the journey. This dedicated resource allows you to ask questions and to learn about the most important tips in order to be on track for a healthy pregnancy.
Join the entire community of SurrogateFirst Surrogates, Coordinators and Coaches to provide shared resources, support and knowledge in a private and safe environment. Learn from other surrogates and gain support throughout your surrogacy journey.
We understand the potential stress associated with surrogacy and balancing work/life. Meditiation is a powerful tool to alleviate stress and we assist you with relaxation music and instructions via MP3, specifically created and designed for Healthy Mom and Healthy Baby relaxation.  
Our weekly newsletter follows you through your entire surrogacy life-cycle from pre-conception through 12 weeks postpartum providing tips, stories and advice from our Coaches, Coordinators and surrogate community.  
Receive a free e-copy of the comprehensive "Reference Guide for Mothers by Mothers" outlining the best practices for the 9 months during pregnancy and the 9 months after pregnancy from professionals in nutrition, wellness and relaxation therapy - written by your Coaches!