The mission behind SurrogateFirst
The SurrogateFirst family is comprised of former Intended Parents and experienced Surrogates who truly empathize with your current journey and share the same perspective, whether you are trying to create a family or seeking to be a potential surrogate. At SurrogateFirst, we are here to serve you; we are driven by our Core Values: we WOW, we provide Guidance with Compassion & Expertise, and we provide Personal Attention & Accessibility. At SurrogateFirst, you will have a team dedicated to serving you who is accessible 24/7 to guide you through every step of your journey. Our goal is to WOW you with our approach and expertise so your journey to parenthood is exceptional in every way. We look forward to helping you realize your dreams just as we did.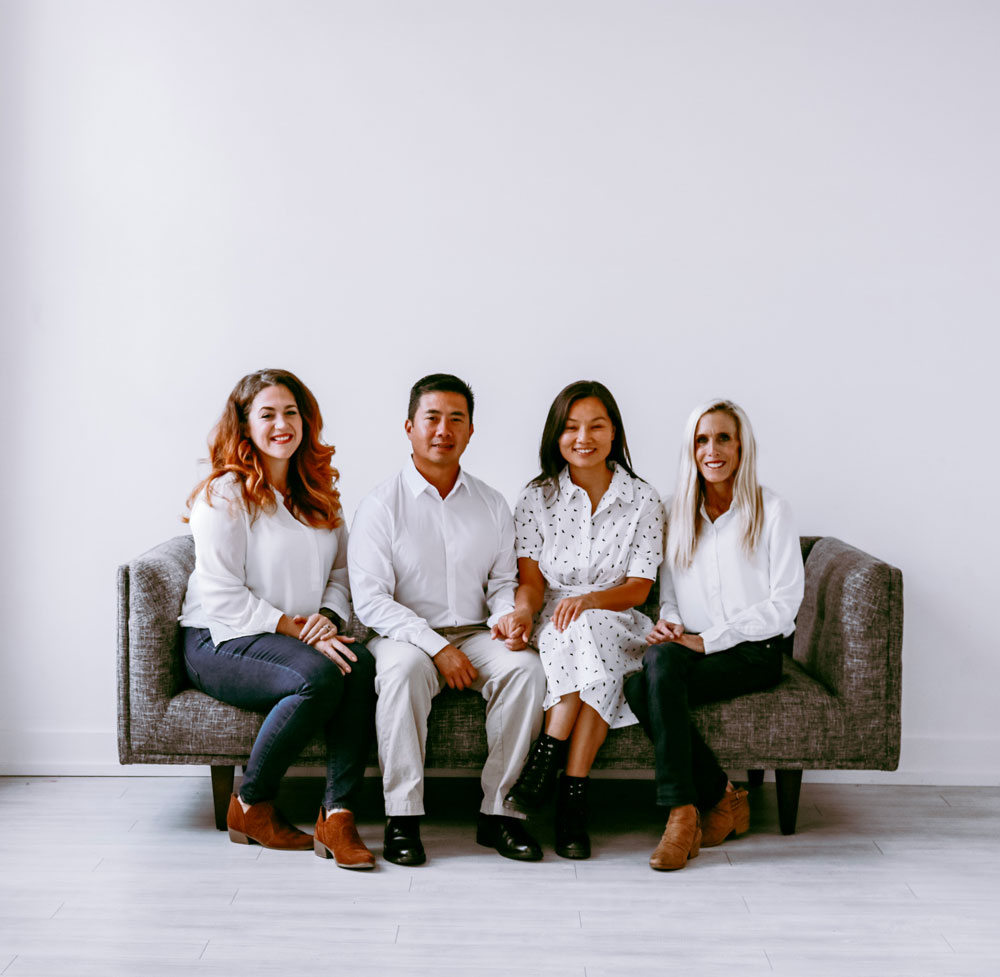 My journey started out like most intended parents with the inability to conceive accompanied by many failed IVF cycles leaving my husband and I emotionally and financially spent. During our 6 year journey across 4 countries and numerous failed IVF cycles, we were finally blessed by our Surrogate with healthy twins. We are forever grateful to our Surrogate and those that guided us through our journey.
Since 2009, I have consulted thousands of couples through their IVF cycles and have successfully guided over 200+ Intended Parents and Surrogates, from around the world, in their surrogate journeys. From this experience and my belief that everyone should have the opportunity to be a parent, I founded SurrogateFirst to meet the growing demands for transparency and professionalism in the world of surrogacy. SurrogateFirst's entire team consists of experienced Surrogates and Intended Parents who serve our clients with expertise, compassion, respect and genuine love. We are excited and honored to assist you in your journey!
Prior to guiding Intended Parents in their surrogate journeys, I founded Atomic Recruitment in 2003 where I served as a Human Resources expert, finding and matching executive talent for F500 companies. We were able to grow to 200 employees across 5 offices in China. Everyday I bring the same determination of never giving up and quest for perfection to provide professionalism to our Surrogates and Intended Parents.
As an intended parent struggling for almost a decade to start a family I intimately understand the challenges (and joy) of navigating the surrogacy journey. I find great joy and accomplishment working at SurrogateFirst with truly caring and dedicated professionals. At SurrogateFirst I lead our marketing efforts and business operations to ensure an excellent experience for all that come across our services - either potential surrogates, intended parents or professional partners. I have over 20 years in the service industry building and managing teams with great shared culture and values. I look forward to working with you in starting (or expanding) your family one blessing at a time!
JEFFREY HU
jeff@surrogatefirst.com
o: 310.634.2978
Ashley Mareko, Surrogate Program Manager:
Aloha I'm Ashley Mareko! As the Surrogate Program Manager my responsibilities are case management oversight, building company partner relationships and conducting business reviews to ensure clients are satisfied with our services. I have been actively involved in the Assisted Reproductive Technology (ART) field for over five years working with clinics, surrogates and IP's. Being a two-time surrogate has given me invaluable firsthand experience to the challenges and joys of the surrogate journey. Born and raised on the big island of Hawaii has taught me the value of "ohana" (family), whether by blood or friendship. This strong tradition continues with providing support to our surrogate community and IP (intended parents) at SurrogateFirst. I feel blessed to be doing what I love with a great agency that makes a difference in people's lives. My background in Education, Marketing, and Customer Service ensures that our clients and surrogates are well served with professional services. I am excited at the opportunity to be able to help you through this journey and have you fall in love with our SurrogateFirst family.
ASHLEY MAREKO
ashley@surrogatefirst.com
o: 424.567.3703 f: 310.861.8088
Crysta Whitehurst, Surrogate Ambassador Pacific North West:
Hello! My name is Crysta. I am the Ambassador for the Pacific Northwest Region for Surrogate First. As Ambassador, it is my role to help Intended Parents and Surrogates on their journey from start to finish. How can I help? My goal in this position, is to develop good relationships with those seeking a surrogate role and help guide them through the process. From initial screenings, informational sessions and meet ups, to matching and beyond. Amongst this role it is my goal to build long term relationships in our region with trusted IVF clinics and Doctors. Here I am able to build a supportive network for those individuals working to create a family, managing all aspects of the relationship with surrogates and IPs. Start to finish means I am here for you and this amazing journey through surrogacy from beginning to end.
Prior to joining SurrogateFirst, I spent the last 10 years in the Pacific Northwest as a Women's advocate and Doula. Earning certifications through Aviva Institute, Hypnobirth training with Hypnobirth training International, as well as Women's Health and Psychology education through Chemeketa Community College. I continue to work in birth, postpartum and lactation support, seeking advocacy to women and their families as they come into the journey of pregnancy, parenthood and beyond.
In addition to my education and training, I have regularly volunteered in my community helping Veterans, homeless and spending time in the local Food banks and Milk Bank based out of Oregon. I am also a previous surrogate with an international family and love sharing my passion for surrogacy and supporting families.
I live in Salem, Oregon with my husband, six children and four babies. In my "free" time, I enjoy hiking and outdoor adventures, traveling and experiencing the arts, culture and foods of the regions. As an avid reader I have an appreciation for books and learning as well as a great love for cooking and above all else spending time with her family.
I look forward to working with you and creating long term partnerships within the surrogate community, providing unparalleled support and services to the PNW.
Crysta Whitehurst
crysta@surrogatefirst.com
o: 971-470-9388 f: 844-568-4483
Emily Hopkins, Strategic Development Manager:
Emily joins SurrogateFirst as the Strategic Development Manager combining her Senior Case Manager knowledge in surrogacy and accumulated corporate experience to assist in our growing organization. Emily graduated cum laude from Vanderbilt with a BA in Economics and Business. After years in the corporate world working as a management consultant, Emily shifted career paths to focus on advocacy for children and families, becoming a Case Manager at the Texas Department of Family and Protective Services and a Court Appointed Special Advocate for children.  With her passion for children and families, and having experienced her own fertility struggles, Emily has spent the last several years as a Senior Case Manager helping intended parents realize their dreams of having children by finding and matching them with amazing surrogates to experience a joyous and successful journey together.
Emily Hopkins
emily@surrogatefirst.com
o: 970-209-1468
Corry Matthews, M.S. - Healthy Lifestyle Expert
Corry Matthews is a champion coach who inspires people to live life with more energy, endurance, and vitality. A Professional Athlete with the International Federation of Bodybuilding and Fitness, she leverages her Masters Degree in Sports Medicine, Bachelors in Exercise Physiology, and 10+ certifications in Nutrition and Exercise Science to create winning strategies for her clients. Corry is the Co-Author of 9 Months In, 9 Months Out – a holistic pregnancy book.
Stacia Kelly, Ph.D. - Holistic Health Advisor
Dr. Stacia Kelly is a Master Certified Clinical Hypnotherapist with a PhD in Holistic Health.  She is a black belt and Certified Self Defense Instructor. She has a calming voice, brings peace and balance to people in high stress situations and into everyday life.  Her clients are able to enjoy less stress and maintain an even better balance in their lives. Stacia is the Co-Author of 9 Months In, 9 Months Out, in addition to other fiction and non-fiction books.
V.K. Intended Parent, September 2019
"Ashley Mareko has been there for me from doctor appointments, helping me out with paperwork, and by having someone to talk about stressful situations. SurrogateFirst has made this journey so effortless. The support they provide surrogates along the journey is immeasurable and this journey wouldn't have been what it is without them."
U.J. Surrogate, September 2019
"My last and final journey went so well and I truly believe SurrogateFirst was a major factor in that. No hiccups, just love and smiles!! I would highly recommend them to anyone looking to go into this experience and would most definitely choose them again myself!!" SurrogateFirst staff is very knowledgeable of the surrogacy process and always made me feel first and cared for. They are prompt with paperwork and payments, personable, hard-working, and most of all compassionate for your pregnancy experience!"
Since I started my journey with surrogate first it has been a blessing to work with Ashley and Lina, they have help me so much. They are are definitely more like family than anything. I do appreciate having them by my side with my whole process. They tell you the whole process from beginning to end. One of the best agencies I have ever heard of.
I started my surrogacy journey not really knowing what to expect. SurrogateFirst set the bar pretty high and I am so grateful they are the agency I went with. Ashley Mareko made the entire process feel so much less intimidating than I had expected going into this as a first timer. She answered all my questions and no matter what I needed, she made sure my needs were met. Everything from my transfer day to delivery day and beyond have been celebrated and have made the process feel so special. 
I love this company! All of the employees are so nice!! Ashley Mareko and Tiffany Salter are both so amazing at their jobs! They are so kind and always go above and beyond for me. They always have my best interests at heart and are so supportive. They have made this journey for me so easy. I 100% recommend this company to anyone thinking about surrogacy. 
 los angeles
5670 Wilshire Blvd Suite 1800
Los Angeles, CA 90036
424.567.3717
info@surrogatefirst.com
las vegas
2850 W Horizon Ridge Pkwy Suite 200
Henderson, NV 89052
424.567.3703
info@surrogatefirst.com
393 State St, Suite 240
Salem, OR 97301
971-470-9388
info@surrogatefirst.com