The mission behind SurrogateFirst
SurrogateFirst is composed 100% of former Intended Parents and experienced Surrogates who truly empathize with your current journey and who are here to serve you. We educate, lead and guide you through your journey with expertise, compassion, respect, and personal attention at all times. Our goal is to WOW you with our approach so your journey in surrogacy is exceptional in every way.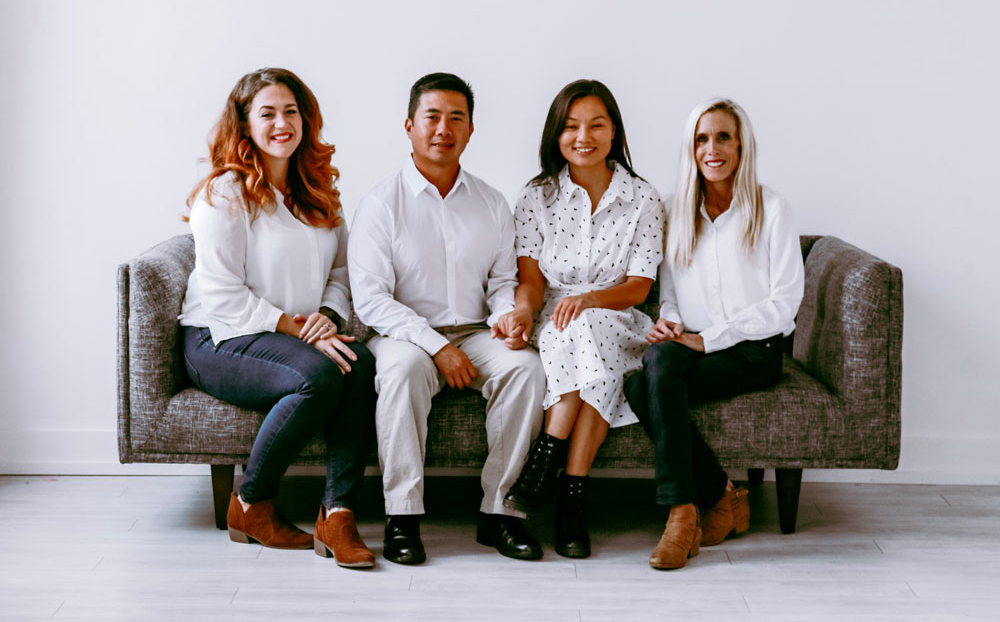 The Core Values We Live By
- Delight IPs & Surrogates
- Go the Extra Mile
- We Over Deliver
"I started my surrogacy journey not really knowing what to expect. SurrogateFirst set the bar pretty high and I am so grateful they are the agency I went with."
- People You Can Trust
- Highly Experienced Team
- Honest & Transparent
"SurrogateFirst was great the entire time. I loved how they got to know my family and treated us in a professional but family-oriented way."
- Available 24/7
- Exceptional Customer Service
- Over Communicate
"I loved how I could reach my Case Manager at any time. I always knew exactly where things stood in my journey which was so reassuring."
My journey started out like most intended parents with the inability to conceive accompanied by many failed IVF cycles leaving my husband and I emotionally and financially spent. During our 6 year journey across 4 countries and numerous failed IVF cycles, we were finally blessed by our Surrogate with healthy twins. We are forever grateful to our Surrogate and those that guided us through our journey.
Since 2009, I have consulted thousands of couples through their IVF cycles and have successfully guided over 200+ Intended Parents and Surrogates, from around the world, in their surrogate journeys. From this experience and my belief that everyone should have the opportunity to be a parent, I founded SurrogateFirst to meet the growing demands for transparency and professionalism in the world of surrogacy. SurrogateFirst's entire team consists of experienced Surrogates and Intended Parents who serve our clients with expertise, compassion, respect and genuine love. We are excited and honored to assist you in your journey!
Prior to guiding Intended Parents in their surrogate journeys, I founded Atomic Recruitment in 2003 where I served as a Human Resources expert, finding and matching executive talent for F500 companies. We were able to grow to 200 employees across 5 offices in China. Everyday I bring the same determination of never giving up and quest for perfection to provide professionalism to our Surrogates and Intended Parents.
As an intended parent struggling for almost a decade to start a family I intimately understand the challenges (and joy) of navigating the surrogacy journey. I find great joy and accomplishment working at SurrogateFirst with truly caring and dedicated professionals. At SurrogateFirst I lead our marketing efforts and business operations to ensure an excellent experience for all that come across our services - either potential surrogates, intended parents or professional partners. I have over 20 years in the service industry building and managing teams with great shared culture and values. I look forward to working with you in starting (or expanding) your family one blessing at a time!
JEFFREY HU
jeff@surrogatefirst.com
o: 310.634.2978
Ashley Mareko, Surrogate Program Manager
Aloha I'm Ashley Mareko! As the Surrogate Program Manager my responsibilities are case management oversight, building company partner relationships and conducting business reviews to ensure clients are satisfied with our services. I have been actively involved in the Assisted Reproductive Technology (ART) field for over five years working with clinics, surrogates and IP's. Being a two-time surrogate has given me invaluable firsthand experience to the challenges and joys of the surrogate journey. Born and raised on the big island of Hawaii has taught me the value of "ohana" (family), whether by blood or friendship. This strong tradition continues with providing support to our surrogate community and IP (intended parents) at SurrogateFirst. I feel blessed to be doing what I love with a great agency that makes a difference in people's lives. My background in Education, Marketing, and Customer Service ensures that our clients and surrogates are well served with professional services. I am excited at the opportunity to be able to help you through this journey and have you fall in love with our SurrogateFirst family.
ASHLEY MAREKO
ashley@surrogatefirst.com
o: 424.567.3703 f: 310.861.8088
Danielle Guaderamma, Case Manager
Hello, I am Danielle Guaderrama, wife to my high school sweetheart and mother to our four amazing children. Once my husband and I decided our family was complete, I began to research surrogacy and third-party reproduction. I felt a strong desire to help others who have struggled with building their own families. In 2010, I completed my first surrogate journey delivering a healthy baby boy for a single Intended Father. In 2012, I gave birth to healthy boy/boy twins for a wonderful couple who struggled with fertility issues for many years. In 2015, I completed my third journey, delivering a healthy baby boy for a sweet domestic couple. Lastly, I completed my final journey in July 2020, delivering a healthy baby boy for an international Intended Father. Becoming a surrogate and helping create families has truly filled my heart; I knew this was something I wanted to continue to do as my career. As a Case Manager, I work closely with Intended Parents and Surrogates throughout their journey to ensure that they have a positive, supportive and successful experience.
I look forward to assisting you on your journey with SurrogateFirst!
Emily Hopkins, Strategic Development Manager
After going through my own journey, I am now blessed with twin girls and find great joy in helping intended parents successfully build their families through the blessing of surrogacy. As Strategic Manager, I use my 10+ years of experience in Business Development and Senior Case Management to streamline our processes to ensure we go the extra mile and provide exceptional customer service at all times. At SurrogateFirst, we continue to create programs and partnerships that benefit all whom we work with; we are always open to feedback and thrive on continuous improvement. Our team looks forward to partnering with you, be it on your journey to parenthood or in serving in the miracle of 3rd party reproduction.
Emily Hopkins
emily@surrogatefirst.com
o: 970-209-1468
Heather Summerlin, Surrogate Coordinator
I decided to look into becoming a surrogate around eight years ago. I had just had my first child and knew I could give the joy that he brings me to someone else. My children are my world and creating families is so incredibly important to me. I have been a surrogate for two families. My first family had a sweet little boy whom I delivered in 2017. I finished my last pregnancy in October 2019 and am currently planning a sibling journey with that family for Fall 2020. My Intended Parents work with SurrogateFirst and I have grown to love this agency. The family atmosphere and kindness from every person at SurrogateFirst has been outstanding. I've prayed to find an amazing company to work with and grow my knowledge about the "behind the scenes" of surrogacy and SurrogateFirst has provided me with that and so much more! In my spare time, I love to coach my kid's t-ball/baseball teams, soccer teams, and my daughter's cheerleading squad. I also have my own T-shirt business and am a health and wellness coach. I love spending time with my kids and husband at home watching movies, playing in the yard, or going to the Beach! Family time is so important to us!
Kimi Velasquez, Surrogate Coordinator
I am the type of person who loves helping out, I have what is called an aloha spirit. I was born and raised in Hawaii and learned to be a humble and caring person. I chose to become a surrogate to help give the most beautiful gift in this world, the chance for people to experience being parents and to be able to see those wonderful smiles. My journey as a surrogate was an experience I will never forget; the moment I saw the parents' smiles was priceless and has made me want to help and give so much more. This is why I decided to become a SurrogateFirst Coordinator. My goal is to help more people fulfill their dreams of becoming parents. I have two wonderful children whom I love and adore. I love spending time with them and being able to show them new learning experiences.
Corry Matthews, M.S. - Healthy Lifestyle Expert
Corry Matthews is a champion coach who inspires people to live life with more energy, endurance, and vitality. A Professional Athlete with the International Federation of Bodybuilding and Fitness, she leverages her Masters Degree in Sports Medicine, Bachelors in Exercise Physiology, and 10+ certifications in Nutrition and Exercise Science to create winning strategies for her clients. Corry is the Co-Author of 9 Months In, 9 Months Out – a holistic pregnancy book.
Stacia Kelly, Ph.D. - Holistic Health Advisor
Dr. Stacia Kelly is a Master Certified Clinical Hypnotherapist with a PhD in Holistic Health.  She is a black belt and Certified Self Defense Instructor. She has a calming voice, brings peace and balance to people in high stress situations and into everyday life.  Her clients are able to enjoy less stress and maintain an even better balance in their lives. Stacia is the Co-Author of 9 Months In, 9 Months Out, in addition to other fiction and non-fiction books.
V.K. Intended Parent, September 2019
"Ashley Mareko has been there for me from doctor appointments, helping me out with paperwork, and by having someone to talk about stressful situations. SurrogateFirst has made this journey so effortless. The support they provide surrogates along the journey is immeasurable and this journey wouldn't have been what it is without them."
U.J. Surrogate, September 2019
"My last and final journey went so well and I truly believe SurrogateFirst was a major factor in that. No hiccups, just love and smiles!! I would highly recommend them to anyone looking to go into this experience and would most definitely choose them again myself!!" SurrogateFirst staff is very knowledgeable of the surrogacy process and always made me feel first and cared for. They are prompt with paperwork and payments, personable, hard-working, and most of all compassionate for your pregnancy experience!"
Since I started my journey with surrogate first it has been a blessing to work with Ashley and Lina, they have help me so much. They are are definitely more like family than anything. I do appreciate having them by my side with my whole process. They tell you the whole process from beginning to end. One of the best agencies I have ever heard of.
I started my surrogacy journey not really knowing what to expect. SurrogateFirst set the bar pretty high and I am so grateful they are the agency I went with. Ashley Mareko made the entire process feel so much less intimidating than I had expected going into this as a first timer. She answered all my questions and no matter what I needed, she made sure my needs were met. Everything from my transfer day to delivery day and beyond have been celebrated and have made the process feel so special. 
I love this company! All of the employees are so nice!! Ashley Mareko and Tiffany Salter are both so amazing at their jobs! They are so kind and always go above and beyond for me. They always have my best interests at heart and are so supportive. They have made this journey for me so easy. I 100% recommend this company to anyone thinking about surrogacy.